Broadcom MegaRAID SAS-9365-28i

Configure high-density storage servers with up to 28 drives via direct connection inside the box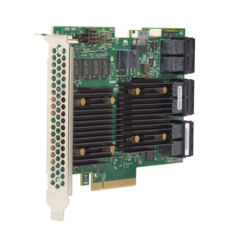 Sorry, this product is no longer available, please contact us for a replacement.
Click here to jump to more pricing!
Overview:
Broadcom 12Gb/s SAS Solutions; Connectivity Innovation
The explosive growth of data in cloud and enterprise data centers is driving the need for a higher performance storage interface to increase the speed of critical applications to access data. Broadcom 12Gb/s SAS solutions are designed to deliver the performance and data protection capabilities required for the most demanding next-generation server and storage platforms. Offering up to double the data transfer rate of 6Gb/s SAS solutions, 12Gb/s SAS allows the SAS infrastructure to deliver bandwidth that can fully utilize that of PCI Express 3.0 with a single controller card.
Industry's Highest Port Count RAID Controller
The MegaRAID® SAS 9365-28i, with twenty-eight internal ports in a fullheight form factor, delivers two 1.2GHz PowerPC processor cores and a 72-bit DDR4 interface that drives 4GB cache memory. Powered by the Broadcom SAS3508 dual-core ARM A15 Tri-Mode ROC, the 9365-28i controller can take full advantage of the latest PCI Express 3.0 interface to provide higher performance and increased throughput. The MegaRAID SAS 9365-28i is designed for configuring high-density storage servers with up to 28 drives via direct connection inside the box.
Enterprise Data Protection
The MegaRAID SAS 9365-28i RAID controller supports data retention by using NAND flash memory down on the controller, backed up by a CacheVault Power Module 05 (CVPM05). The CVPM05 module is a supercapacitor pack that provides power for the backup of your data in case of host power loss or server failure. The CVPM05 module is connected to the controller remotely by cable. The data is backed up to the NAND flash memory on the MegaRAID controller board. Standard support for the most popular RAID levels, including RAID 5 and RAID 6, further strengthens the data protection capabilities of the MegaRAID SAS 9365-28i. A new enterprise feature employed by the 12Gb/s MegaRAID SAS controllers is advanced drive diagnostic technology. In the event of a physical drive failure, the drive is placed in shield state and the MegaRAID controller starts drive diagnostics to determine if the drive is indeed failed or can be restored. This saves customers time, money and lost compute time associated with transient drive failures and unnecessary drive returns.
Features:
Key Features:
High-performance 12 Gb/s data transfer rates
28 internal 12 Gb/s SATA+SAS ports
Six mini-SAS SFF8643 internal connectors
SAS3508 RAID-on-Chip
PCI Express 3.0 host interface
4 GB DDR3 cache memory
RAID levels 0, 1, 5, 6, 10, 50, and 60
Support for CacheVault flash cache protection
Key Advantages
12 Gb/s solutions accelerate performance for next-generation data centers, web and cloud
Delivers enterprise-class data protection and security
Preserves investment in 6 Gb/s and 3 Gb/s drives
Support for Broadcom SafeStore software, which manages selfencrypting drives (SEDs) attached to MegaRAID controllers for higher levels of security
CacheVault Power Module CVPM05 option for remote connection via cable
Direct connect up to 28, 3Gb/s, 6Gb/s or 12Gb/s SATA and SAS devices
Specifications:
MegaRAID SAS 9365-28i Controller Card
Solution Provided
Twenty-eight-port internal SAS/SATA RAID solution for high-density and mainstream servers and storage systems requiring high drive count support inside the box.
Physical Dimensions
155.65 mm x 111.15 mm
Connectors
6 x4 SFF-8643
1 x4 SFF-8654
Device Support
Up to 240 SAS and/or SATA devices
Host Bus Type
x8 lane PCI Express 3.0 compliant
Data Transfer Rates
Up to 12 Gb/s per port
I/O Processor/SAS Controller
SAS3508 dual core RAID on Chip (ROC))
Operating Temperature
Maximum ambient: Controller Card: 55°C, with optional CacheVault accessory (CVPM02): 55°C
Operating Voltage
+3.3V, +12V
MTBF (Calculated)
>2,000,000 hours at 40°C
Hardware Warranty
3 years; with advanced replacement option
MegaRAID Management Suite

LSA (LSI Storage Authority)
StorCLI (command-line interface)
HII (UEFI Human Interface Infrastructure)

SSD Optimization
MegaRAID CacheCade Pro 2.0 Software leverages SSDs in front of HDD volumes to create high-capacity, high-performance controller cache pools (Optional Upgrade)
Regulatory Certifications
USA (FCC 47 CFR part 15 Subpart B, class B); Canada (ICES -003, Class B); Taiwan (CNS 13438); Japan (VCCI V-3); Australia/New Zealand (AS/NZS CISPR 22);Korea (RRA no 2013-24 & 25); Europe (EN55022/EN55024); Safety: EN/IEC/UL 60950; RoHS; WEEE
OS Support
Microsoft Windows, Linux (Oracle, SuSE , Red Hat), Solaris, VMware, FreeBSD, CentOS, Canonical, Citrix, FreeBSD, Fedora, Debian See www.broadcom.com/support/download-search for details on versions. Contact Oracle support for Oracle driver or software support.
Pricing Notes:
Pricing and product availability subject to change without notice.