Broadcom MegaRAID 9440-8i

Enables endless design flexibility with the ability to operate NVMe, SAS, or SATA storage devices in a single drive bay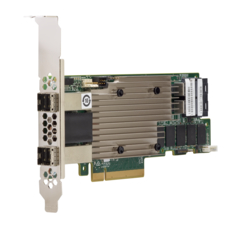 Broadcom Products
Broadcom Storage Products
LSI MegaRAID SAS 9440-8i
#05-50008-02
List Price:
$693.63
Our Price: $400.21
Click here to jump to more pricing!
Overview:
Industry's First Hardware RAID adapter with Tri-Mode SerDes Technology
Broadcom enables high performance storage connectivity and fl exible system designs that support any combination of NVMe, SAS and SATA devices with the industry's fi rst hardware RAID adapter with Tri-Mode SerDes. The MegaRAID 9400 series of adapters expands on the industry-leading family of 12Gb/s storage adapters from Broadcom with 8 and 16 port internal, external and combination Tri-Mode port options.
NVMe Performance Gains for Storage
The MegaRAID Tri-Mode storage adapters bring NVMe performance benefi ts to the storage tier by providing connectivity and data protection that MegaRAID technology has off ered for over 20 years for SAS/SATA interfaces. Based on the dual-core SAS3516 or SAS3508 RAID on Chip (ROC) and 72-bit DDR4-2133 SDRAM, these controllers provide bandwidth and IOPS performance increases compared to the previous generation and are ideal for high-end servers utilizing internal storage or connecting to large-scale external storage enclosures.
Endless design fl exibility using Tri-Mode Controllers
Broadcom's Tri-Mode SerDes Technology enables operation of NVMe, SAS, or SATA storage devices in a single drive bay. A single controller can operate in all three modes concurrently servicing NVMe, SAS, or SATA drives. The controller negotiates between the speeds and protocols to seamlessly work with any of the three types of storage devices. Tri-Mode support provides a non-disruptive way to evolve existing data center infrastructure. By upgrading to a Tri-Mode controller, users can expand beyond SAS/SATA and use NVMe without major changes to other system confi gurations.
Features:
Apllications
High-port count SAS/SATA/NVMe controllers for direct attached high connectivity applications
Tri-Mode connectivity enabling maximum data center fl exibility
Flexible solutions for cloud computing
External storage requiring high connectivity SAS/SATA interface for host or drive side connect
Key Features
Tri-Mode Storage Interface Ports

SFF-8680 Bay

x1 SAS
x1 SATA
x2 SAS (Multi Link)
Two x1 SAS (Dual port using MPIO)

SFF-8639 (U.2) Bay
Supports 12, 6, and 3Gb/s SAS and 6, 3Gb/s SATA data transfer rates
Up to 8 storage interface PCIe links. Each link supporting x4 or x2* link widths up to 8.0 GT/s (PCIe Gen3) per lane
SFF-9402 Compliant, Connector Pin-out
SFF-8485 Compliant, SGPIO
RAID levels 0, 1, 5, 6, 10, 50 and 60
CacheVault flash back-up at power fail

Supports bad block management

PCIe 3.1 Host Interface

Supports x8, x4, x2, x1 PCIe lanes at a transfer rate up to 8.0 GT/s per lane, full duplex
Lane and polarity reversal
Variable PCIe bandwidth negotiation
Specifications:
9460-16i
9460-8i
9480-8i8e
9440-8i
Ports
16 internal
8 internal
8 internal/8 external
8 internal
Connectors
Four (x4) SFF-8643
Two (x4) SFF-8643
Two (x4) SFF-8643,
Two (x4) SFF-8644
Two SFF-8643
Storage Interface Support
SAS, SATA, PCIe (NVMe)
Max PCIe (NVMe) Direct Attach Devices
Four x4, Eight x2
Two x4, Four x2
Two x4, Four x2
(internal only)
Two x4, Two x2
(Direct Attached Only)
Max Devices Per Controller
SAS/SATA: 240 NVMe: 24
SAS/SATA: 240 NVMe: 24
SAS/SATA: 240 NVMe: 24
SAS/SATA: 63 NVMe: 2
Cache Memory
4 GB 2133MHz DDR4 SDRAM
2 GB 2133MHz DDR4 SDRAM
4 GB 2133MHz DDR4 SDRAM
N/A
I/O Processor / SAS Controller
SAS3516
SAS3508
SAS3516
SAS3408
Host Bus Type
PCIe 3.1 x8
PCIe 3.1 x8
PCIe 3.1 x8
PCIe 3.1 x8
Cache Protection
CacheVault CVPM05
CacheVault CVPM05
CacheVault CVPM05
N/A
Physical Dimensions
6.127″ x 2.712″
(155.65 mm x 68.90 mm)
6.127″ x 2.712″
(155.65 mm x 68.90 mm)
6.600″ x 2.712″
( 167.65mm x 68.90mm)
6.127″ x 2.712″
(155.65 mm x 68.90 mm)
Typical Power
17.02W
14.16W
17.71W
10.05W
Airflow
250LFM at 55°C
250LFM at 55°C
250LFM at 55@C
200LFM at 55@C
Operating Conditions
Operating: 0°C to 55°C 20 to 80% non-condensing
Storage: -45°C to 105°C 5 to 95% non-condensing
MTBF (Calculated)
>3,000,000 hours at 40°C
Operating Voltage
+12V +/-8%; 3.3V +/-9%
Hardware Warranty
3 years; with advanced replacement option
Management Software
LSI Storage Authority (LSA) StorCLI (command-line interface), HII (UEFI Human Interface Infrastructure)
Regulatory Certifications
USA (FCC 47 CFR part 15 Subpart B, class B); Canada (ICES -003, Class B); Taiwan (CNS 13438); Japan (VCCI V-3); Australia/New Zealand (AS/NZS CISPR 22); Korea (RRA no 2013-24 & 25); Europe (EN55022/EN55024); Safety: EN/IEC/ UL 60950; RoHS; WEEE
OS Support
Microsoft Windows. Contact Oracle support for Oracle Solaris driver or software support. See www.broadcom.com/support/download-search for details on versions.
Pricing Notes:
Pricing and product availability subject to change without notice.
Broadcom Products
Broadcom Storage Products
LSI MegaRAID SAS 9440-8i
#05-50008-02
List Price:
$693.63
Our Price: $400.21